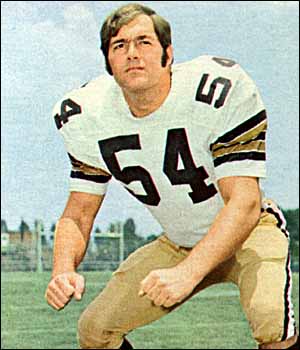 Thomas James Roussel
Tommy "Skee" Roussel was one of two Lafourche Parish natives the Washington Redskins drafted in 1968. (Bob Brunet of Larose was the other one.) Roussel, a linebacker for the Redskins and Saints, was born Jan. 20, 1945, in Thibodaux. He played football for Thibodaux High School and the University of Southern Mississippi before joining the ranks of the NFL.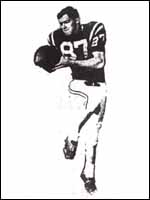 In his senior year at Southern Mississippi, Roussel played defensive end in the Blue-Gray Bowl, where he earned Outstanding Lineman honors, and linebacker in the Senior Bowl. The Redskins picked him in the second round of the 1968 draft, the 38th pick overall.

Roussel played in every game for the Redskins during the three years he was with the team. In his second year, he played under legendary coach Vince Lombardi, who coached the Redskins during the 1969 season (its first winning season since 1955) but died in September 1970.
In January, 1971, new Redskins coach George Allen traded Roussel and a fourth- and eighth-round draft pick

to the New Orleans Saints for quarterback Billy Kilmer, who was made expendable by the Saints' decision to draft Archie Manning with the first pick of the 1971 draft.
Roussel played two seasons with New Orleans, picking up two interceptions for 15 yards in 1972, his last year with the team. He ended his career in 1973 with the Philadelphia Eagles.
Career stats of Tommy Roussel
| | | | | |
| --- | --- | --- | --- | --- |
| Year | Team | Games | Int | Yards |
| 1968 | WASH | 14 | 0 | 0 |
| 1969 | WASH | 14 | 0 | 0 |
| 1970 | WASH | 14 | 0 | 0 |
| 1971 | NO | 7 | 0 | 0 |
| 1972 | NO | 14 | 2 | 15 |
| 1973 | PHIL | 3 | 0 | 0 |
| Total | | 66 | 2 | 15 |
Links about Tommy Roussel:

Compiled by Eddie "Bush" Bernard
---
Return to Lafourche.com Sports