Tommy Hodson

He made the Earth move. On Oct. 8, 1988, against Auburn, LSU quarterback Tommy Hodson threw the winning touchdown pass to Eddie Fuller, putting LSU ahead 7-6. The crowd's reaction was so wild that it registered on the LSU Geology Department's sesimograph across campus.
Hodson was born Jan. 28, 1967, in Raceland. He prepped at Central Lafourche High School, where he passed for 4,361 yards and 36 touchdowns and also averaged 27.4 points per game in basketball.
Hodson had an illustrious career at LSU, where he set a state record with 9,115 yards passing from 1986-89. (The record held until 1998, when Louisiana Tech quarterback Tim Rattay, eclipsed him). LSU's teams were 31-14-1 with Hodson at the helm. He completed 674 of 1,163 tries (a 57.9 percent accuracy rate) and made 69 touchdowns.
New England drafted Hodson in the third round of the 1990 draft. He started the last six games of his rookie season, going 0-6 on a team that went 1-15 in 1990. He was named the started at the beginning of the 1991 season but was replaced by Hugh Millen after going 1-2 in the first three games.
Hodson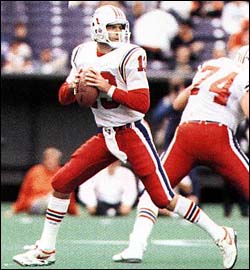 didn't start again until October of 1992 when Millen was injured. Hodson's season was cut short by an injury, however. He broke his thumb during the first quarter of the game against New Orleans. Although he played the whole game, it was his last of the season.
After a coaching change, the Patroits waived Hodson on Aug. 23, 1993. Miami signed him on Oct. 13, 1993, to serve as a backup to the ailing Dan Marino. He was cut on Nov. 10, 1993.
It looked like his playing days were over, however the Dallas Cowboys signed him on Nov. 22, 1994, to serve as an emergency backup after Troy Aikman was injured. He was waived a week later.
Hodson's playing days were still not over however. He signed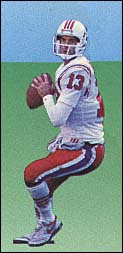 with New Orleans on April 27, 1995 and served as a backup quarterback until the Saints released him on Feb. 14, 1997.
NFL Films has a clip of Hodson converting a PAT for 2 points, beating the 49ers in 1995. That was the last time the Saints defeated San Francisco. Requires the RealAudio player version 5.0 or later.
The Louisiana High School Athletic Association and the High School Coaches Association named Hodson to their Hall of Fame in 1999 for his contribution to high school sports.
Hodson lives in Baton Rouge, where he is a financial consultant. He remains active in sports, working with children through the Southeastern Conference's annual fan days and on the staff of the Manning Passing Academy.
PASSING
RUSHING
Year
1990
1991
1992
1993
1994
1995
1996

Team
NE
NE
NE
MIA
DAL
NO
NO

ATT
156
68
91


5


COMP
85
36
50


3


PCT
54.5
52.9
54.9


60.0


YDS
968
345
496


14


AVG
6.21
5.07
5.45


2.80


TD
4
1
2


0


INT
5
4
2


0


RAT
68.5
47.7
68.8


64.6


ATT
12
4
5





YDS
79
0
11





AVG
6.6
0
2.2





FUM
5
2
2


0


Return to Lafourche.com
Compiled by Eddie "Bush" Bernard