Bobby Hebert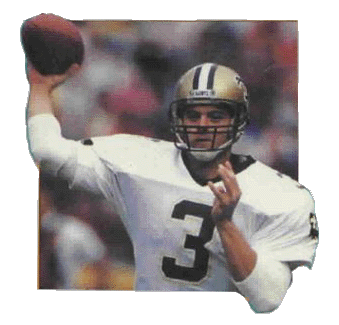 "The Cajun Cannon"
When you mention Bobby Hebert's name, the word "championship" usually follows. Hebert,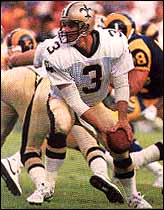 who was born Aug. 19, 1960 in Cut Off, led the South Lafourche High School Tarpon football team to the state 4A championship in 1977. He led the Michigan Panthers to the United States Football League championship in 1983, and the Oakland Invaders to the championship game in 1985. He led the New Orleans Saints to its first playoff appearance in 1987.

Hebert was a multi-sport athlete at South Lafourche High School, playing football and basketball. He was quarterback for Northwestern State University in Natchitoches, La. The Michigan Panthers in the new United States Football League selected Hebert in the third round of the 1983 draft, the 34th pick overall. He signed with the Panthers on Jan. 22, 1983.
He had a distinguished career with the new league. He set the USFL's record for most touchdowns in a game with 5 on June 26, 1983, against Chicago. He led the Panthers to the chamionship in 1983, was named MVP of the championship game and selected the USFL's Quarterback of the Year, Sporting News Player of the Year, and quarterback on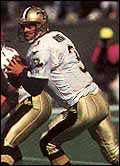 The Sporting News' USFL all-star team. In 1983, he was 257-451 for 3,568 yards with 27 touchdowns and 17 interceptions. 1984 didn't produce a championship year for Hebert but he was still able to go 272-500 for 3,758 yards with 24 touchdowns and 22 interceptions. In 1985, with the league foundering, the Panthers and Oakland Invaders mergered with Hebert as quarterback. He was 244 of 456 for 3,811 yards, with 30 touchdowns and 19 interceptions in leading Oakland to the title game. He was granted his unconditional release on July 15, 1985, and signed with the New Orleans Saints on Aug. 7, 1985.
The Cajun Cannon had come home.
Or so it seemed. Hebert played seven seasons with his hometown team, helping to bring the Saints its first winning season and its first berth in the playoffs as a wildcard in 1987. His early tenure with the Saints was marred by injury. He sat out two months of the 1986 season with a broken foot. His later term with the Saints would be controversial. He sat out the 1990 season in a contract dispute. His feud with Coach Jim Mora eventually led to his unconditional release on March 1, 1993. He signed with cross-league rival Atlanta on April 21, 1993 and had one of his better years, topping it off with an appearance in the NFL Pro Bowl. He stayed with Atlanta in a back-up role until the end of the 1996 season. He says he's still ready to play if anyone needs him.
Hebert was named to the Saints Hall of Fame in 1999 and inducted into the Louisiana Sports Hall of Fame in 2000.
PASSING
Year
1985
1986
1987
1988
1989
1991
1992
1993
1994
1995
1996

Team
NO
NO
NO
NO
NO
NO
NO
Atl
Atl
Atl
Atl

Games
6
5
12
16
14
9
16
14
10
4
14

Att
181
79
294
478
353
248
422
430
103
45
488

Com
97
41
164
280
222
149
249
263
52
28
294

Pct
53.6
51.9
55.8
58.6
62.9
60.1
59.0
61.2
50.5
62.2
60.2

Yds
1208
498
2119
3156
2686
1676
3287
2978
610
313
3152

Yds/Att
6.7
6.3
7.2
6.6
7.6
6.8
7.8
6.9
5.9
7.0
6.5

Lg
76
84
67
40
54
65
72
98
40
37
57

TD
5
2
15
20
15
9
19
24
2
2
22

Rating
74.6
40.5
82.9
79.3
82.7
79.0
82.9
84.0
51.0
88.5
72.9

Totals
Games
120
Att
3,121
Com
1,839
Pct
58.9
Yds
21,683
Yds/Att
6.9
Lg
98
TD
135
Rating
78.0
INTS
SACKS
RUSHING
Year
1985
1986
1987
1988
1989
1991
1992
1993
1994
1995
1996

Team
NO
NO
NO
NO
NO
NO
NO
Atl
Atl
Atl
Atl

Int
4
8
9
15
15
8
16
17
6
1
25

Int%
2.2
10.1
3.1
3.1
4.2
3.2
3.8
4.0
5.8
2.2
5.1

Sckd
17
5
20
24
22
16
15
29
3
0
27

Yds
150
34
119
171
171
134
119
190
17
0
150

Att
12
5
13
37
25
18
32
24
9
5
15

Yds
26
14
95
79
87
56
95
49
43
-1
59

Yds/R
2.2
2.8
7.3
2.1
3.5
3.1
3.0
2.0
4.8
-0.2
3.9

Lg
8
7
19
16
11
16
18
14
20
2
25

TD
0
0
0
0
0
0
0
0
0
0
1

Totals
Int
124
Int%
4.0
Sckd
178
Yds
1,255
Att
195
Yds
602
Yds/R
3.1
Lg
25
TD
1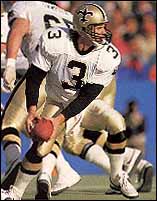 FUMBLES
Year
1985
1986
1987
1988
1989
1991
1992
1993
1994
1995
1996

Team
NO
NO
NO
NO
NO
NO
NO
Atl
Atl
Atl
Atl

No.
1
3
4
9
2
5
3
11
2
0
10

Lost
0
0
0
0
0
0
0
0
0
0
4

Rec.
0
0
0
0
0
0
0
3
0
0
2

Ret. TD
0
0
0
0
0
0
0
0
0
0
0

Totals
No.
50
Lost
4
Rec.
5
Ret. TD
0
Compiled by Eddie "Bush" Bernard