By Bush Bernard
Published in the Daily Comet in 1996
The greatest third baseman to play in the Negro Leagues was born in Thibodaux.
But Oliver "The Ghost" Marcelle never got the recognition due such a man during his lifetime and for 42 years his body laid buried in an unmarked grave in Denver. He was inducted into the Louisiana Sports Hall of Fame in 1996.
"I think Ollie Marcelle was the best third baseman there was," said Bobbie Robinson, a fellow third baseman who played against Marcelle in the Negro Leagues.
"He was colorful," Robinson said. "Some ball players, it just looks like they have more color when they take the field. I know he was one of the best."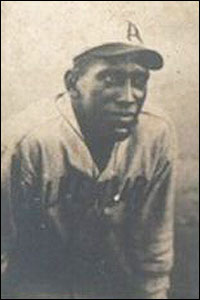 Oliver Marcelle was born June 24, 1895, in Thibodaux. He was the fifth of Daniel and Eliza Marcelle's six children, according to census records. He had an older brother, Johnny, and sisters, Elnora, Celestine, Ann and Cecilea, who was 2 years younger than Oliver.
Little is known about his early life. John "Buck" O'Neil, a friend and former teammate who lives in Kansas City, said he didn't know Marcelle was from Thibodaux.
"He always said he was from New Orleans," O'Neil said.

His professional baseball career started in New Orleans, where he played for several teams during his teens. In 1918, he moved to Brooklyn where he played for the Brooklyn Royal Giants in 1918 and 1919.
He soon gained recognition for his fielding abilities and his flair for the dramatic, said Jay Sanford, a sports historian who lives in a Denver suburb. His nickname, "The Ghost," came from his fielding style.
He would stand 10 feet off the bag and wait for someone to hit a ball his way. He would run and leap, making the catch, Sanford said.
"It didn't seem like he was much faster than the other guys," Robinson said. "He played deeper than I did. He was just colorful."
"Ollie would play 10 feet closer to the batter than anyone else," Sanford said. "They'd shoot the ball at him and he'd catch it. He had cat-quick reaction."
From 1920-23 Marcelle played with the Atlantic City Bacharach Giants, spent 1924 and part of 1925 with the New York Lincoln Giants, returned to Atlantic City in 1925 and stayed with them through 1928. He was part of the "Million Dollar" infield of the Baltimore Black Sox in 1929. He finished his playing career with the Brooklyn Royal Giants in 1930. His lifetime batting average was .305.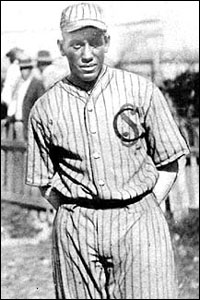 Marcelle was a fierce competitor with an equally fierce temper.
In a fight, "he'd hit you with whatever was available," Sanford said.
Although he had other players' respect, he had few friends.
Buck O'Neil is one of the few people who spoke kindly of Oliver Marcelle, Sanford said.
"They liked him as a player, but not as a person," Sanford said. "He drank a lot and fought a lot."
"When he drank he got nasty," Sanford said. "If he had a bat in his hand, he'd hit you with it. Even as an older man, living here in town, he'd get in fights in a crap game. It was like night and day."
His temper ended his career early.
During a fight over a craps game with a fellow player, Frank Warfield, in Cuba in 1929, Warfield bit off a piece of Marcelle's nose.


Marcelle started wearing a black eye patch over his nose.
"He was a proud, handsome guy, you know, and then he used to wear a black patch across his nose and he got so he couldn't play baseball any more," Bill Yancey, a player in the Negro Leagues, said in "Only the Ball was White," a book by Robert Peterson published in 1970.
Sanford went to Marcelle's old neighborhood doing research and could find no one that remembered him as a baseball player.
"I'd talk about baseball and get blank stares," Sanford said. "I'd talk about his nose, they'd say `The Patch.' "
Marcelle quit playing in 1930. He coached for a while and in 1933 toured with the Miami Giants, ending up in Denver.
His biggest contribution to baseball history didn't come as a player though.
The Denver Post sponsored one of the biggest semipro baseball tournaments in the country. In 1934, Marcelle convinced the Post's sports editor that the paper should invite the Kansas City Monarchs, a black team, to the tournament.
The Post invited the Monarchs, who had a pitcher by the name of Satchel Paige, who would later join the Hall of Fame.
The tournament was Paige's first exposure to the white press. Sanford believes that Marcelle's prodding speeded up the integration of baseball.
Prior to the 1934 tournament, Denver had black teams and white teams. The next year, Denver's baseball teams were integrated.
"That was 11 years prior to Jackie Robinson," Sanford said.
O'Neil, who played for the Monarchs, said the tournament was one of the best ever.
"I'd played white teams before," he said. "But the Denver Post Tournament was one of the best."
He said players didn't think of the tournament as a milestone in history at the time.
"I don't think we thought about black and white as much, as far as everyone was concerned."
Marcelle worked as a laborer for a while and continued to drink, Sanford said. He was estranged from his family, although his son, Ziggy, a former Southern University basketball star, also played in the Negro Leagues.
Marcelle died penniless on June 12, 1949, two weeks before his 54th birthday. His death certificate lists the cause of death as heart disease.
"His drinking caught up with him," Sanford said.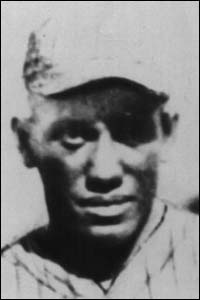 Marcelle was buried in Denver's Riverside Cemetery in an unmarked pauper's grave.
Sanford, a mortgage banker who formerly lived in New Orleans, said he'd heard about Marcelle during his studies of the Negro Leagues.
When he heard he was buried in an unmarked grave, Sanford started an effort that involved the Zephyrs, a minor league team that later moved from Denver to New Orleans, and the Colorado Rockies and culminated with a ceremony on June 1, 1991, where Marcelle's tombstone was unveiled.
The tombstone bears a quote from O'Neil: "Baseball's best Thirdbaseman brought professional baseball to Colorado."
"I was glad to see they did this for Ollie," O'Neil said. "He was out there in an unmarked grave."
Career Statistics of Oliver Marcelle

| | | | | | | | | | |
| --- | --- | --- | --- | --- | --- | --- | --- | --- | --- |
| Year | Team | Games | At bats | Hits | Doubles | Triples | Home runs | Stolen bases | Batting avg. |
| 1918 | Brooklyn Royal Giants | 3 | 11 | 1 | 0 | 0 | 0 | 0 | .091 |
| 1920 | AC Bacharach Giants | 9 | 29 | 6 | 0 | 2 | 0 | 1 | .207 |
| 1922 | Atlantic City | 27 | 99 | 36 | 5 | 1 | 0 | 2 | .364 |
| 1923 | Atlantic City | 15 | 61 | 18 | 0 | 0 | 2 | 6 | .295 |
| 1924 | New York Lincoln Giants | 45 | 175 | 60 | 13 | 3 | 1 | 12 | .343 |
| 1925 | NY and AC (two teams) | 58 | 195 | 60 | 5 | 3 | 2 | 3 | .308 |
| 1926 | Atlantic City | 31 | 106 | 27 | 1 | 1 | 1 | 1 | .255 |
| 1927 | Atlantic City | 48 | 180 | 55 | 4 | 3 | 2 | 2 | .306 |
| 1928 | Atlantic City | | 169 | 50 | 2 | 3 | 3 | 0 | .296 |
| 1929 | Baltimore Black Sox | 58 | 207 | 57 | 4 | 2 | 0 | 7 | .275 |
| 1930 | Brooklyn Royal Giants | 5 | 25 | 8 | 1 | 0 | 0 | 0 | .320 |
| Totals | 13 years | 349 | 1,451 | 442 | 42 | 22 | 12 | 41 | .305 |
Return to lafourche.com Sports
---
Links:
Negro Leagues Archives
Negro Leagues Museum
BlackBaseball.com