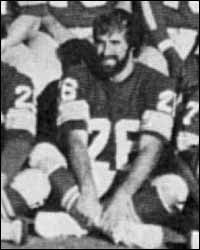 Robert Paul Brunet
Bob Brunet was one of two Lafourche Parish natives the Washington Redskins drafted in 1968. (Tommy Roussel of Thibodaux was the other one.) Brunet, a fullback, running back and special teams member for the Redskins, was born July 29, 1946 in Larose. He played football at Cut Off High School and Louisiana Tech, where he was selected All-Gulf States Conference halfback in 1965 and 1967. He gained a combined 862 yards his senior year at Louisiana Tech.
The Redskins selected him in the seventh round,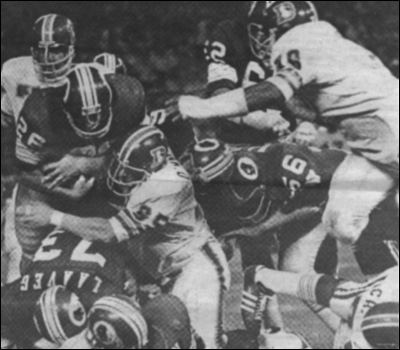 the 176th overall pick, in 1968. He signed with the Redskins March 9, 1968. Brunet broke into the starting lineup in the fifth game of his rookie season and was the team's second-leading ground gainer for that season, with 227 rushing and 160 yards receiving. He played in 81 games for the Redskins and saw the team go from a periennial loser to National Football Conference champions and one of the most dominant teams of the 1970s.
Brunet was a member of the team that played in the 1973 Super Bowl. (The photo at left shows Brunet scoring the winning touchdown in a 14-10 victory over the Denver Broncos during a preseason game on Aug. 10, 1973.) He played for the legendary George Allen, but sat out the 1969 season, when Vince Lombardi was coach of the team. A foot injury kept him out of action for the 1974 season.
His career ended midway through the 1977 season, when he broke his back during a game against Dallas. The injury left him temporarily paralyzed. He recovered fully from the injury but did not play football again.
He opened a restaurant in Baton Rouge in 1977 that today goes by the name of Brunet's Cajun Restaurant. It is near the corner of Florida Boulevard and South Flannery Road.

RUSHING
RECEIVING
RETURNS
Year
1968
1970
1971
1972
1973
1975
1976
1977

G
7
6
7
14
14
14
14
5

ATT
71
9
10
30
2
6
0
3

YDS
227
37
27
82
4
23
0
6

AVG
3.2
4.1
2.7
2.7
2.0
3.8
0
2.0

TDs
0
0
0
2
0
1
0
0

Fum
7
0
1
1
0
0
0
0

REC
18
3
2
1
0
0
0
0

YDS
160
28
4
8
0
0
0
0

AVG
8.9
9.3
2.0
8.0
0
0
0
0

TDs
1
0
0
0
0
0
0
0

No.



8

5
4
2

YDS



190

83
85
40

AVG



23.8

16.6
21.3
20.0

Totals
G
81
ATT
131
YDS
406
AVG
3.1
TDs
3
Fum
9
REC
24
YDS
200
AVG
8.3
TDs
1
No.
19
YDS
398
AVG
20.9
Compiled by Eddie "Bush" Bernard